#HerStory: Chamel of ChamelEvans.com
It has been awhile since I've featured an amazing business owner in the #HerStory series but I am extremely excited to jump right back into it! Today's feature is not only a client but a friend of mine as well! Chamel of ChamelEvans.com is a wife, mother, maker and mentor who believes in showing busy women how to juggle multiple roles and infuse their faith into their dream.
Chamel has also recently released her first physical product under her personal brand, the #FaithFuelBox which is a bi-monthly gift box filled with amazing Christian and inspirational products! Int his interview we'll talk more about the #FaithFuelBox and her journey as a business owner!
What inspired you to create the Faith Fuel Box?
The Faith Fuel Box was inspired by my passion to help women chase after faith in their core and fire in their hearts! It is the perfect fusion of my love to encourage and all things pretty and inspiring. The Faith Fuel box is my little gift to help women fill their lives with reminders of God.
This is what I know to be true. We weren't made to count down the days until the next exciting thing or just survive until our heads finally hit the pillow, but we were meant to conquer each day with the word of God. We were made to come fully alive in His love as we chase after our heart's desires.
The Faith Fuel Box does just that - helping women stay inspired and empowered by God's truth, love, and encouragement. It's about meeting women right where they are, even if it's at their door steps. Amazing fuel for your faith journey!
What type of planning and strategizing went into creating and launching the box?
The first step was to let go of "perfect" and lean into prayer. It's so easy to try to follow what others are doing or wait for the perfect opportunity. I sought God's direction and vision for the Faith Fuel Box which will be a bi-monthly encouraging gift box filled with Christian and inspirational handmade/handpicked products and surprises. Not only does the box provide encouragement for one's faith journey, a portion of each box sold will help provide #faithfuelpacks to mothers of preemies at local NICUs in Nashville, TN.
From there, I put together a simple plan to develop the branding and prototype. Next, I connected with a few Christian influencers and sent out boxes for reviews and to share with their communities. (The response has been amazing!) I've kept the marketing strategy simple by soliciting the help of brand reps to share the mission and promoting the Faith Fuel Box on social media.
The boxes will be on sale for one week, April 11 - 16, 2016 and will ship on April 29th. Just in time for Mother's Day!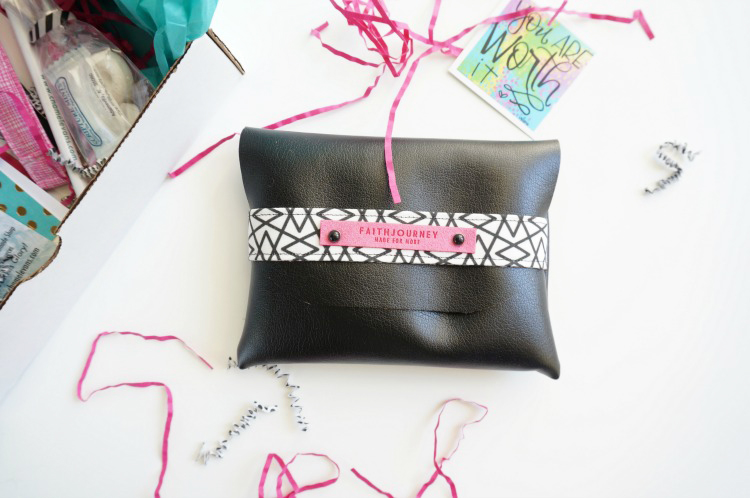 You have built your brand around your faith and helping others connect with theirs. How can other creatives infuse their faith into their business?
I can't stress it enough - when you be about God's business, He will be about yours!
The key is to ensure that you are making your relationship with God a priority. Developing faith habits like planned and intimate prayer and study time, will allow you to be in tune with God as He develops your character, shifts your mindset, and provides vision and provision for your calling.
His love will fuel and ignite your heart to pour into your business and the relationships He has called you to with clarity and guidance. By trusting in God to lead you as a woman of faith, you will receive peace and joy about the daily operations of your business as well as God's strength to press through any obstacle that comes your way.
Not only are you an amazing business woman but you are also a mother of 3 and a wife! How do you balance it all?
GRACE, GRACE, AND MORE GRACE! God's grace is sufficient and always on time! I remind myself daily that He has called me to be a woman of influence, but my relationship with Him and my home ministry comes first. After many hard lessons, I've established boundaries for myself, family life, and business. It's key to make margin to rest and enjoy the blessings of God and it's something I will always be working to improve.
Balancing it all with grace, that is the very essence behind my business to show and help other women stand in who God has created them to be, to pour into the lives He has govern them over, and to chase after His calling on their lives.
WHAT'S NEXT FOR THE CHAMEL EVANS BRAND?
This year for me has been about disrupting my comfort and being bold in all my efforts. I'm looking forward to collaborating on projects to speak and teach women how to infuse their faith in various aspects of their lives (marriage, motherhood, business, etc.). Also excited to expand my love for design and provide spiritual resources and design for faith based businesses, ministries, and churches. More than anything, I'm leaving room for God to do the impossible and use me for His Kingdom mission. Praying, believing, and receiving - I'm excited to see what God has planned.
3 WORDS THAT DESCRIBE CHAMEL
FAITH + FAMILY + HEART
Chamel's #FaithFuelBox is officially available for purchase now through April 16th and will ship out on April 29th! Chamel has also been gracious enough to give all T.A.N readers an extra gift in their boxes as well! Just use promo code "ALISHA" at checkout!